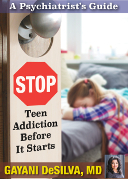 A Psychiatrist's Guide: Stop Teen Addiction Before It Starts

Gayani DeSilva, M.D.

A Psychiatrist's Guide: Stop Teen Addiction Before It Starts outlines how addictive substances and activities hijack the teenage brain to create an addiction. This book demystifies addiction from a neurological and psychological perspective--explaining the way the brain changes in response to addictive stimuli and in response to psychological factors.
The teenage brain and psyche are particularly vulnerable to developing addictions, because during the teen years, the brain is in a phase of rapid and profound development. Moreover, more than half of all suicides were with people who were intoxicated.
With a non-judgmental approach, Gayani describes family dynamics and parenting choices that inadvertently promote the development of an addiction. Armed with knowledge about how addiction develops, Dr. DeSilva coaches parents on how to optimize their parenting strategies to help their children avoid getting addicted.
Gayani DeSilva, M.D.

Expertise:

Child and Adolescent Psychiatrist
Gayani dedicates her psychiatric practice to improving children's health and wellness. Straight talk and practical expertise are her tools of the trade to address the mental health needs of children and their families. She wields not just her expert medical opinion; she advocates to achieve wellness for the entire family.
Dr. DeSilva obtained her medical training at Albany Medical College, internship at Brown University, and residency at Harvard University. She holds numerous awards and citations and currently is in private practice in Laguna Beach, CA.
Dr. DeSilva has spent over 15 years as a Psychiatrist, specifically enhancing the mental health of children and adolescents. Much of her work consists of the complex array of needs with adolescent and young adult criminal and violent offenders to understand the interplay between mental illness, societal factors, and interpersonal issues.