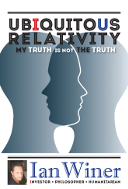 Ubiquitous Relativity: My Truth is Not the Truth
Ian Winer

Not one truth fits all sizes. Seven billion people on one planet, each living in their own universe. One man's journey from West Point to Wall Street to Anonymity asking the Everlasting Question: How can I gain a greater sense of purpose in life through an improved connection to other people? Ian Winer's philosophy lays a fresh roadmap for anyone searching for a more meaningful life by examining the senses and emotions unique to each of us and challenging our long-held beliefs about the world and everyone in it by pausing on our own judgments.
Ian invites each of us to take a leap of faith into the unknown, the uncomfortable, and the unfamiliar. Revealing how surviving an abusive household in childhood incorrectly informed him of a world that was limited and confined... in confronting his own truth, he opened up to the possibilities that everyone possesses their own truth revealing the twofold illusion of universality.

Ian Winer
Expertise:
Investor, Philosopher, Humanitarian and Writer
Ian Winer connects people to the truth of market places and human behavior. His unique approach to analyzing and predicting outcomes is built on his philosophy of Ubiquitous Relativity, a phrase he coined in 2016 after a chance encounter picking his nose at a stop light. In the world of finance, every major publication from CNBC to The Wall Street Journal to Bloomberg relies on Winer as a regular on-air contributor. His trademark offering is a source of fun and entertaining insight into markets that, more often than not, are born from his uniquely non-consensus thinking.
A West Point graduate, Winer was the first United States Military Academy graduate to play in the Division 1 Ice Hockey All-Star game.
A survivor of abuse, addiction, and fear based living, Winer spent his early years searching for the answer to life's major question of Can I make a difference in this life?