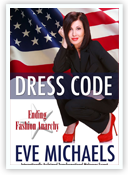 Dress Code:
Ending Fashion Anarchy

Eve Michaels

"Your sweats, PJs and flip-flops are losing you money! Chances are your computer and cellphone are more current than your image.
Stop making excuses and learn to look your best!" Move past your excuses of no time and money and become your own American success story.
Do you crave more confidence, respect and power? Want to earn more money? Not moving up in your career, life and relationships? Have you stopped being passionate about yourself? Do you like who you see in the mirror? Now is the time to read "Dress Code" and turn your life around.
Find out how image connects to success. Be fresh and modern at any age! Learn how to look great and do your very own makeover!
Eve Michaels

Expertise:

Beauty, Makeover, Transformation,Motivation Speaker, Image,Rejuvination, Confidence, Self-respect, Author
One look at Eve Michaels and you are acutely aware that she cares about her appearance from the top of her glossy auburn hair to the tip of her elegant patent leather stiletto pumps. She cares so much about appearances that she has made a lifelong career out of helping others improve theirs.
Eve's introduction to the world of beauty was born out of her early childhood years of tragedy, when her mother suffered permanent brain damage and was institutionalized for life as a result of a car accident.
Eve's intention to "heal" her mother came in shades of pink and red; the hues of make-up she used to make her mother "feel pretty," and hopefully come home to stay.
next
Realizing the impact that this had on her life led to a mission to change America's perception and reflection of beauty, both inwardly and outwardly.
Eve Michaels has spent over thirty years in the business as an internationally acclaimed "Transformational Makeover Expert" and the creator of the Fast Track To Fabulous™ program.
A nationally recognized author and motivational speaker who captivates audiences globally, Eve teaches people life changing, easy-to-follow skills that quickly transform their image and their attitude about dressing well.
Eve has an engaging and relatable gift for helping her clients understand what makes them special and how to create the right image that communicates their unique abilities and talents.
It is no wonder her work is often called "Makeover Magic!" Her soft voice, compelling scenarios, edgy delivery and "walk the walk" style make for an entertaining escape into a new dimension of beauty and inspiration.

back
"We are playing in a global economy, not just imperialists. We need to bring back our class and image. We look like a nation of slobs and not like world-class leaders."