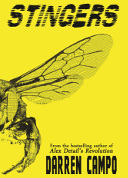 Stingers

Darren Campo

Austrian is a quiet young man working at the TVCom League. Not the type of person one would expect of corporate espionage and manipulating governments.
Dr. Dianna Saint Sommers is a former Alabama beauty queen and Nobel prize winning physicist/musician. The government has recruited Diana and her young music prodigies for a top-secret project.
When Dr. Saint Sommers' child prodigies flee her program to join Austrian on a mysterious mission, she is charged with chasing them down before they incite a global disaster. It seems Austrian has come up with a way to use the prodigies and honeybees to unlock an immortality gene… and resurrect everyone who ever lived!
Darren Campo

Expertise:

Television Producer and Executive, Author
Darren Campo is a television producer and executive. Author. New media pioneer. And university professor. His philosophical ingenuity and storytelling ability has fostered one of the most intriguing literary series written in the best-selling "Alex Detail's Revolution, "Alex Detail's Rebellion," "Disappearing Spell," and "Stingers."
As a television producer and executive, Darren is verse in developing all genres of content. Darren serves as head of programming strategy for Food Network and Cooking Channel. Previously he was head of programming at truTV, and has been an executive at Court TV and CBS. Just prior to the launch of truTV, Multichannel News named Darren Campo one of "40 Under 40" to watch.
next
But Darren's fare for content can ride the wave of reality trends to drawing on inspirations for his own creative writing from Schopenhauer, Schrödinger and Joseph Campbell to create the epic adventure and story of intrigue that Alex Detail takes.
Early critique of Darren's first bestseller, "Alex Detail's Revolution," has been cited as a work of 'activation', not unlike thematic nerve struck by Dan Brown's Da Vinci Code.
Darren is an Adjunct Professor in the Entertainment, Media and Technology program at the NYU Stern School of Business, where he teaches "The Business of Producing." He is also a graduate of the school.
back