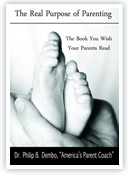 The Real Purpose of Parenting:
The Book You Wish Your Parents Read
Philip B. Dembo

THE REAL PURPOSE OF PARENTING is a series of stories and life lessons from the world of a therapist, known as The Parent Coach. Very well-intentioned, well meaning parents are at the point of crisis with their kids because their own best parenting efforts are NOT producing the children they want them to be. And there, according to Dr. Phil Dembo, lies the problem.
In THE REAL PURPOSE OF PARENTING, even the best parents are capable of smothering the growth of their kid's life. This can happen because the truth of who the child is, and what the child truly needs is often overlooked or ignored in the agenda that many parents lay out for their kids. Thus...often landing the family in a colossal melt down. Dr. Dembo shows simple family "turn around" strategies that reframe the real purpose of parenting and gives each family, and child their own salvation.
Dr. Philip B. Dembo
Life Coach, Relationship Expert

Expertise:

Relationships Athhletic performance, Parenting, Family Challenges Business, Workplace and Teamwork Strategies.
Raising amazing kids is a goal for every parent, but how do they make it happen? They talk to Dr. Phil Dembo. Dr. Dembo is an expert in helping parents raise amazing kids, who make good decisions, live a life with integrity and a strong conscience.
Using simple strategies and analogies, such as basketball parenting, to help parents set boundaries, Dr. Dembo has a way of making difficult situations easy to understand and handle for any parent.
For 30 years, Dr. Dembo (aka Doc) has helped thousands of people live better lives. His unique relationship strategies have led his clients to personal, business, sports performance and family success.
next
His work with professional athletes, including a recent NFL kicker who was the top scorer on his team, has helped them rise to the top of their game.
As an accomplished public speaker he has been featured on HLN's Nancy Grace Show, Let's Talk with Dr. Sheila Fohrman, The Rise To The Top, Great Day St. Louis, Fox Sports Northwest, Fox 5 San Diego, Fox 2 News St. Louis, KPLR 11 News, KSDK News, The McGraw Milhaven Show on 550AM and The John Carney Show on KMOX. He has also served as an expert for MSN Money, HollywoodLife.com, Today.com, the St. Louis Business Journal, the St. Louis Post-Dispatch and The Riverfront Times.
Dr. Dembo is the author of the new parenting book, THE REAL PURPOSE OF PARENTING - The Book You Wish Your Parents Read." The book is available at Barnes & Noble, BarnesAndNoble.com & Amazon.com. He is also the host of a weekly internet radio show titled "The Parent Coach."

back
He taught for many years at St Louis University, adjunct, in the Marriage and Family Therapy program in the college of Education. For the past 30 years he has worked in private practice, and various other settings, coaching his clients on topics related to improving the quality of their relationships and lives.
In addition to parenting, Doc has served as expert about a variety of topics including:
• Balancing personal and business lives
• Successful partnerships
• Team building
• Selling or closing a business
• Raising children with integrity
• Positive discipline
• Handling change
• Identity development
• Confidence building
• Life balance
• Self discovery
• Athletic focus
• Elite athletic performance