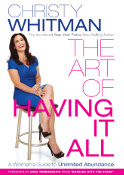 The Art of Having It All: A Woman's Guide to Unlimited Abundance

Foreword by Anna Trebunskaya, Dancing With the Stars



Is it possible to have: a passionate marriage; a thriving career; a healthy, beautiful body; more money than you ever dreamed possible, and enough "down" time to enjoy it – without running yourself ragged? The answer is a resounding YES!
In this hands-on guide to applying the universal laws of deliberate manifestation, Master Law of Attraction coach Christy Whitman, a New York Times best-selling author and mother of two, shows readers that it is not only possible for women to have it all in every aspect of our lives, but to settle for anything less is to deprive ourselves of the true joy, exhilaration and fulfillment of becoming all that we were born to be.
Christy Whitman

Expertise:
New York Times Bestselling Author, CEO & founder of the Quantum Success Coaching AcademyTM, Creator of The Enlightened Kid Program

Today Christy Whitman lives the dance of life with a positive attitude and coaches thousands of women entrepreneurs worldwide on how to live financially abundant, successful, expressive lives.
She is a New York Times Best-selling Author of "Taming Your Alpha Bitch: How to Be Fierce and Feminine (and Get Everything You Want!)," CEO and founder of the Quantum Success Coaching AcademyTM (a 12 month Law of Attraction coaching certification program), and creator of the Enlightened Kid Program.
Christy will be hosting a syndicated broadcast radio show originating from KZSB-AM 1290 radio in Santa Barbara during the first 3 launch months of her book.