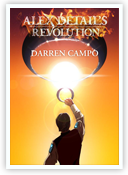 "Alex Detail's Revolution"

Darren Campo

Alex Detail has been kidnapped. Again. Ten years ago, Alex was a child genius who saved the world from The Harvesters, a mysterious alien force that attempted to extinguish Earth's sun. A decade later, The Harvesters have returned, but Alex is no longer a prodigy and unwilling to fight another war. So someone at The House of Nations had him drugged and placed on the last remaining ARRAY warship, which is under heavy attack.
Unfortunately for Alex's mysterious kidnappers (and the world) he has lost the mega IQ that allowed him to win the last war. Now Alex must convince the ship's food-obsessed Captain Odessa to use his risky command program to save their ship, uncover his kidnapper's devious plot, and survive the war long enough to make it to Pluto, where, underneath the planet's frozen surface lies the only force in the universe that can stop The Harvesters.
Darren Campo

Expertise:

Television Producer and Executive, Author
Darren Campo is a television producer and executive. Author. New media pioneer. And university professor. His philosophical ingenuity and storytelling ability has fostered one of the most intriguing literary series written in the best-selling "Alex Detail's Revolution, "Alex Detail's Rebellion," "Disappearing Spell," and "Stingers."
As a television producer and executive, Darren is verse in developing all genres of content. Darren serves as head of programming strategy for Food Network and Cooking Channel. Previously he was head of programming at truTV, and has been an executive at Court TV and CBS. Just prior to the launch of truTV, Multichannel News named Darren Campo one of "40 Under 40" to watch.
next
But Darren's fare for content can ride the wave of reality trends to drawing on inspirations for his own creative writing from Schopenhauer, Schrödinger and Joseph Campbell to create the epic adventure and story of intrigue that Alex Detail takes.
Early critique of Darren's first bestseller, "Alex Detail's Revolution," has been cited as a work of 'activation', not unlike thematic nerve struck by Dan Brown's Da Vinci Code.
Darren is an Adjunct Professor in the Entertainment, Media and Technology program at the NYU Stern School of Business, where he teaches "The Business of Producing." He is also a graduate of the school.
back