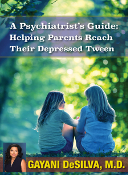 A Psychiatrist's Guide: Helping Parents Reach Their Depressed Tween

Gayani DeSilva, M.D.

Though this book focuses on how parents can converse with their children who have mental illness, the skills and tools presented in this book are applicable to parents of all children.
Parents when faced with the challenge of trying to connect with their children are frequently so focused on their child talking with them, that they miss ways to make a meaningful connection that leads to increased understanding between the parent and child. This book will help parents learn to be cognizant of childhood developmental processes and about how their child's illness impacts development. Using knowledge about neurodevelopment, psychological development, and psychiatric disorders, parents will learn how to use conversation to improve bonding, bolster their child's self-esteem, and aid their child's development.
Gayani DeSilva, M.D.

Expertise:

Child and Adolescent Psychiatrist
Gayani dedicates her psychiatric practice to improving children's health and wellness. Straight talk and practical expertise are her tools of the trade to address the mental health needs of children and their families. She wields not just her expert medical opinion; she advocates to achieve wellness for the entire family.
Dr. DeSilva obtained her medical training at Albany Medical College, internship at Brown University, and residency at Harvard University. She holds numerous awards and citations and currently is in private practice in Laguna Beach, CA.
Dr. DeSilva has spent over 15 years as a Psychiatrist, specifically enhancing the mental health of children and adolescents. Much of her work consists of the complex array of needs with adolescent and young adult criminal and violent offenders to understand the interplay between mental illness, societal factors, and interpersonal issues.