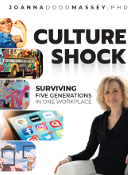 Culture Shock: Surviving Five Generations In One Workplace

Joanna Dodd Massey, Ph.D.

"But I need me time!"
When faced with a young employee looking at her disappointedly after being told she needed to work over a holiday, author Dr. Joanna Dodd Massey did what many Gen X managers do. She thought to herself, "I've worked through every vacation I ever took!" But, instead of reacting, she paused and found a compromise to serve both the company and her employee.
Americans are experiencing a culture revolution unlike anything we have seen since the 1960s. Millennials and Gen Z are nearly half of the U.S. population and, as consumers and employees, they are dramatically changing the way we work. Dr. Massey does a deep dive into the five generations at work, examining how they behave and why. Using a humorous and candid writing style, Dr. Massey breaks the news to her cantankerous colleagues that resistance is futile, and they need to change or risk becoming irrelevant in the not-so-distant future.

Joanna Dodd Massey, Ph.D.
Expertise:
Communications, Social Psychology, Corporate Culture and Media
With over 25 years of experience in the media industry at companies, such as Condé Nast, Lionsgate, CBS, Viacom, Discovery and Hasbro, Joanna Dodd Massey, Ph.D., MBA is an experienced C-level communications executive and Board Director. She has managed brand reputation, corporate turnaround, crisis communications, culture transformation, and multi-million-dollar P&Ls.
Currently, she serves as a consultant, who advises clients on communicating with Millennial and Gen Z employees, consumers, and investors.